Welcome to ATLAS Career Fair
Welcome to the ATLAS Career Fair 2023 on the 12th of April in Kemicentrum!

ATLAS is a career fair aimed for students in the field of science at Lund University. It's a platform where students in all disciplines can explore and learn more about their career opportunities through engaging and networking with companies and organizations. ATLAS is arranged by The Science Student Union together with The Science Faculty.
It is a way for you as a student to find out more about internship, summer jobs, education choices, exchange studies, The Science Union, career service and more. This is not something you would like to miss! Find out more about who is coming to ATLAS at the Catalogue section.
For companies and organizations this is a chance to interact, engage and meet our students and our organization at The Science Faculty.
Schedule for the fair
09:45 | WELCOME
The ATLAS career fair day starts. We will meet a KC A for an introduction seminar that starts 10:15.
10:15 | PRESENTATION
In KC A there will be a seminar introduction to the fair. It is first come first served. At the seminar you get to meet the head chief of Medicon village who will talk about career opportunities and what you need to do as a student. Additionally, you will meet exhibitors at the fair who will present themselves and talk about career service.
10:15-10:25 Welcome to the fair, Selma Lindgren, Malin Olbe, Karl Ljung
10:25-10:55 Petter Hartman, vd Medicon Village Innovation
10:55-11:05 CR competence
11:05-11:30 Break Coffee, fika KC:A
11:30-11:40 AFRY (Swedish)
11:40-11:50 Ecogain
11:50-12:00 StemLink
12:00-12:10 Lunds kommun (Swedish)

12:15 | Mingle and LUNCH
Mingle with the exhibitors at the fair and see what they can offer you! There will be lunch available for the students who arrive first. In other words: First come first served.
15:30 | FAIR CLOSE
The career fair day closes, and we thank you for your participation at ATLAS career fair 2023!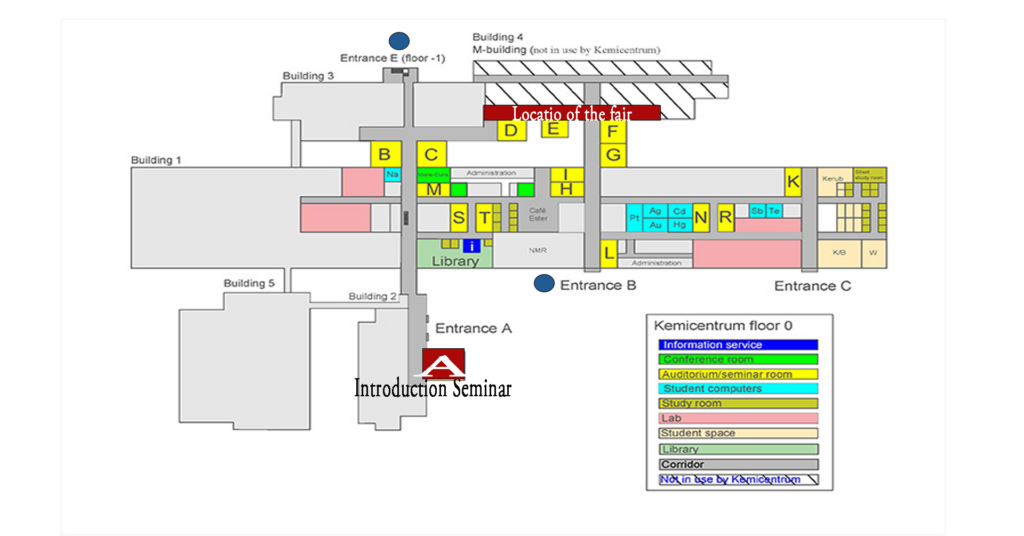 The Career fair main entrances will be B. There will be beach flags outside the entrance showing the way. The fair will be located in the hallway up from entrance B before the M building shown in the picture.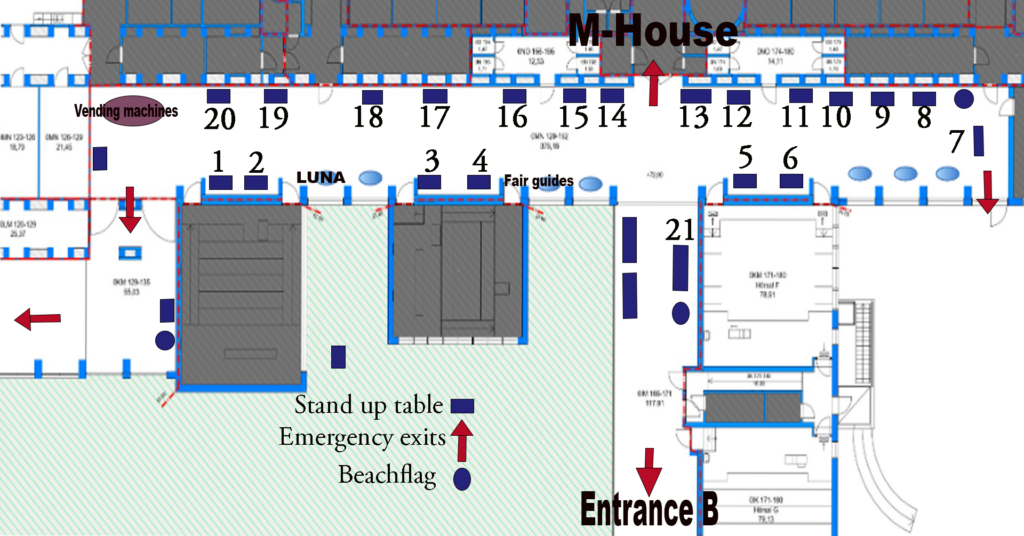 This map represents the layout of the fair. The number on the map represent a company/organization which can be found down below. More information about the companies attending can be found in the Catalogue.