LUNA Novisch Period Experiments
Welcome to the home page of the LUNA Novisch Period Experiments! Here you find the Experiment List, Active Turfs, Current Standings, Updates from the Pointmaster, and rules on how to compete in the LUNA Novisch Period.
The competition is between four teams: BUG, GLuFS, LEMUR, and SNYS. BUG are the biologists, GLuFS are the physicists, LEMUR are the mathematicians and chemists, and SNYS are the environmental scientists; physical geographers; and geologists.
Index
Rules
Here you find important information regarding the novisch period competition
Rule 1:
Do not break the law.
Other Rules:
There are 3 main ways for you and your team to earn points.
Competing in our big events

Here you compete against the other teams to earn 100, 75, 50, 25 points. These are events such as ANO and others marked in the Novisch Period calendar
If your mascot is late, your team gets minus 1 point per minute, for a total of minus 15 points

Doing Experiments

Here you take photos or videos of you and your friends, performing your interpretation of the experiments in the Experiment List. The more team members and the funnier the interpretation is, the more bonus points you can get!

Doing Turfs

A Turf is a type of Experiment, listed in the Experiment List. Here you take a photo of a minimum of 4 team members, with the mascot+flag from the same perspective as the original photo. The original photos are found in the Active Turfs section. Each turf is worth 15 points, but bonus points can be awarded if additional team members participate, or if you do something cool/funny/spexy!!
Experiment Submission
Look at the Experiment List to find which Experiments has not already been done. Experiments can only be done ONCE PER TEAM, and is crossed over when all teams have completed said quest.
Read the Experiment description and make an interpretation of how it can be done in a funny way. If the description sounds impossible, for example, "Party with the eternal leader (Note, There is only one eternal leader)", you should make an interpretation of the Experiment and perform it to your best ability. The better and funnier, the more points. However, if it sounds impossible, but also kinda isn't impossible we do expect you to try LEGALLY. If your attempt is not deemed sufficient, the Pointmaster will answer your email with details of what is expected.

Turfs are a special kind of Experiment where you take a photo of at least four team members, with the mascot + flag from the same perspective as the original photo. A turf can only be taken once so you better hurry to get them before the other teams do!

Complete these Experiments by taking photographs, video, or other ways of documentation.
Send the photo/video to pointmaster@luna.lu.se

As the topic of the email put " >team name<, >experiment number: experiment description<" (Just copy paste it from the quest list)
For example:

BUG,1: Work out the outdoor gym in winter clothing 5p
GLuFS,21: Adopt a pet rock 5p
LEMUR,40: Prove that the high ground is superior 5p
SNYS,9: Fence with the bulls 5p

Nothing more, nothing less

Check your email in case you get a reply about any issues with the submission
If you can't send the video for some reason (file too big or otherwise) upload it to YouTube and email the link to pointmaster@luna.lu.se
If you are sending in a Turf you did you should put your team name that you are sending in as the topic of the email
Experiment Assessment
Each Experiment can be done once per team unless otherwise stated.
You cannot combine several quests into one submission, i.e one video covers more than one quest.
When an Experiment submission has been approved, your team can be awarded two types of points

Base point is the points that simply completing an experiment gives you. This is the value indicated in the Experiment List.
Bonus point is extra points awarded to you by the Pointmaster. The value of the bonus point is subjective, but doing an Experiment with more teammates, humor, the mascot, the flag and a funny interpretation of the experiment description leads to more bonus points. More difficult Experiments can often give more bonus points.
Current Standings
The current (most recently updated) standings are displayed here, however sometimes the page will have trouble updating due to your cache, so if you think it hasn't updated try clearing your cache or opening the page in incognito mode.
BUG – 1585 Points
Lemur – 1444 Points
SNYS – 1129 Points
GLuFS – 952 Points
FUF – 190 Points
TNTFs – 69 Points
Mentor team – (-)94 Points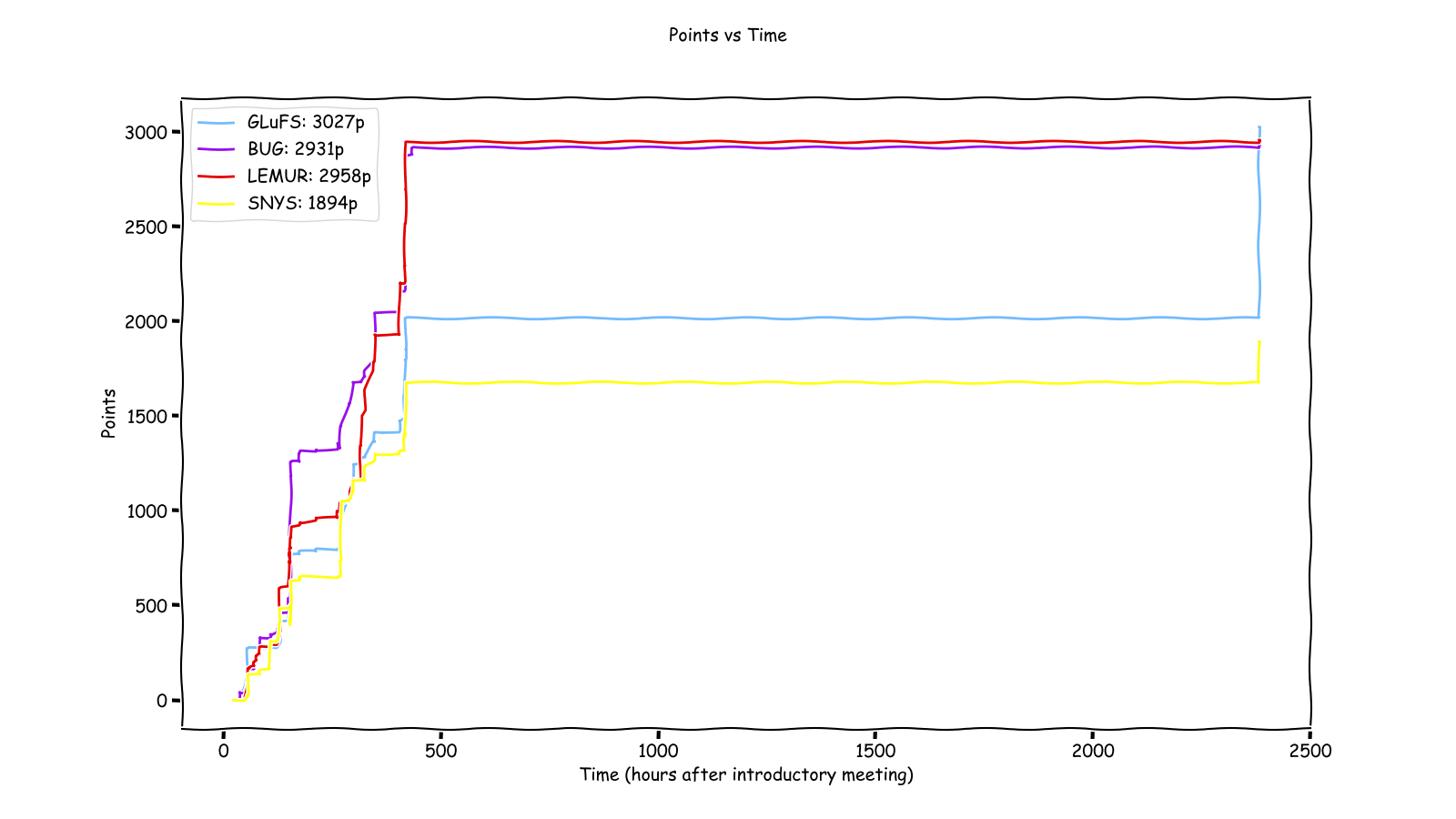 Experiment List
Active Turfs
Taken turfs
Updates From The Pointmaster
25/08/2021
Update #1
Hello all! I am your pointmaster Jr Sam. Due to some technical difficulties the experiments list arn't updated just yet but I hope they will be soon. I hope you are all super hyped for the novisch period, we sure are. I'll update again once everything is up and running!
Sam
UPDATE: Hello all, it is I, I have returned from the depths of the computer with some expert help and have fixed the page. The experiments are now live Huzzah!
Update #2
The novisch period has finally started, and it seems like is first out of the gate with experiments is BUG, who has claimed an early lead! We hope you had a nice time at the introgames and the bbq, tomorrow is our first COMPETITION, so don't forget your flag and mascot!!
Also, the mentor team is currently at -6pts, since Viktor pinched Pointmaster Sr. with a pair of tongs! >:(
26/08/2021
Oh lawdy lawd, what a day!
I hope you all enjoyed soap games today, I know FU had a blast!
If you missed it, the final tally after the soap games were:
1. SNYS – 100pts (+40 for finding Ugglis )
2. BUG – 75pts
3. LEMUR – 50pts
4. GLuFS – 25pts
You may have thought that would put SNYS in the lead, but most teams have been questing like crazy, so the updated score for the overall competition is:
1. BUG with 224pts
2. SNYS 195pts
3. GLUFS 143pts
4. LEMUR 141pts
Also, the mentor team managed to redeem and ruin their scores! Viktor stole General Sr.'s hat, and lost 3 points! A lot of mentors joined FU in dancing however, which granted them 10 points, this puts the mentor team at 1 solid point!
28/08/2021
Hallå där, köp blåbär novisches!
Well done yesterday on the brännboll, showing real determination in the rain and beating the mentor team!
There has been quite a few quests rolling in and the standings are as follows:
BUG – 329 Points
SNYS – 262 Points
LEMUR – 234 Points
GLuFS – 204 Points
The mentor team receives -5 points for allowing their novisches to throw beer (with gluten in it) at Stina!! They redeemed themselves by being very helpful in assembling and disassembling the tent, scoring them 9 points <3.
See you at the pubsittning tonight for those who signed up for it, don't forget songbooks, labcoats, ID and proof that you paid your biannual fee to studentlund!
29/08/2021
I hope you all had an awesome time with this years Amazing Race, it was very close but LEMUR claimed the first spot with difficulty, congrats to them!!
Thank you again to LEMUR and SNYS for finding Ugglis in a team effort, 25 points will be awarded to both of you! 🦉🦉
SNYS was late with their mascot and receives -3 points!
LEMUR receives -35 points (15+5 for being late with mascot+bike today, and 15 for being late with the flag for soap games!)
The updated standings can be find below! The mighty Bisons are still in the lead, will they ever be toppled, one might ask? 👀👀
BUG – 404 Points
SNYS – 336 Points
LEMUR – 331 Points
GLuFS – 247 Points
Amazing race final scores:
LEMUR 100 Points
BUG – 75 Points
SNYS – 50 Points
GLuFS – 25 Points
Pointmaster coughs away in another puff of smoke
30/08/2021
Wow, you guys are actually CRAZY hyped, I didn't know it was possible to do this many experiments in one night! 😮
After going through all of your quests tonight, while having google lock our email-account due to "suspiciously high activity" (true story), we finally have the updated scores!!
The Bisons are still flying high, with the Lobsters just barely taking over the Sandpipers for the second place!
BUG – 653 Points
LEMUR – 586 Points
SNYS – 582 Points
GLuFS – 374 Points
There is still time for the Geckos to come back however, as there are two competitions this week, not to mention the TURFS being released on WEDNESDAY AT 10.00!!
Tomorrow is the student council day, where you will get to know your educations student council better, check your chats to see where/when it will take place, and we'll see you all on Thursday for the picknick sittning!
Taggarååååååååååååå!!
Both pointmasters collapse on their respective beds
01/09/2021
Greetings novisches, here's another update from the pointmaster!
The first few TURFS have been taken, make sure to update your cache and delete your internet data if you can't see it on the website, otherwise you may try to claim a taken turf!
I also have the updated scores below, it's not a big surprise that who is on top, with the BUG Bisons running rampant around Lund and claiming all the turfs!
BUG – 742 Points
LEMUR – 657 Points
SNYS – 607 Points
GLuFS – 389 Points
Now GO GO GO! If you want to get the last few turfs (more will be uploaded soonTM!
04/09/21
Here is a long awaited update from your Pointmasters!
I hope you all had fun at this years banANO, congrats to GLuFS for claiming their first win!! 🍌🍌
The score from banANO:
GLuFS – 100pts
BUG – 75pts (+40 points for helping Ugglis find his way back to us🦉🦉)
SNYS – 50pts
Lemur – 25pts
Also, a new challenger has appeared, and the new, mysterious FadderUtskottets Fanclub (FUF) has been questing like crazy! 😲
The mentor team isn't doing too great after today, as they received -100pts for throwing waterballoons at the Pointmasters (twice!). They also lost control of their novisches and allowed them to take Sofias hat, while also taking Kenneths hat themselves, earning them an additional -10pts!
They did redeem themselves however, by being very helpful in carrying boxes, giving Pointmaster a bar of soap and helping Vendela pump her bike, earning them 11pts!
Below is an update of the current score in the competition!

BUG – 915 Points
LEMUR – 702 Points
SNYS – 687 Points
GLuFS – 504 Points
FUF – 50 Points
Mentor team – -94 Points
Pointmaster out tries to drop the mic but drops it on foot and limps sadly away
05/09/21
Greetings from the Pointmaster!
We hope you had a chill time today and got to know the different LUNA committees today in the sun!
This years winner of LUNA fair is… drumroll
LEMUR!!! 🥳🥳
1: Lemur – 100 Points
2 & 3: SNYS/GLuFS – 63 Points each (you had the exact same points down to the smallest detail)
4: BUG – 25 Points
All of you did very well on bringing the flag and mascot today, but some point reductions will be taken from yesterdays ANO!
Lemur receives -5 points for being late with their flag
SNYS receives -3 points for being late with their mascot
GLuFS receives -6 points for being late with their flag
That's all for now, until next time!
Pointmaster somersaults away except it is all in his head and he only does clumsy roll
07/09/21
Greetings younglings, here's one of the LAST updates from the Pointmasters!
Well done all to all of you during tonight's Taskmasters, it was very close, but in the end GLuFS managed to claim the #1 spot, congrats to them!!
1. GLuFS – 100pts
2. SNYS – 75pts
3. BUG – 50pts
4. Lemur – 25pts
Also, a special thank you to SNYS for finding Ugglis, we were so worried!!
. However, you shall receive 38 points, as your flag was 2 minutes late!The updated standings can be found below!
Lemur – 1039 Points
BUG – 1029 Points
SNYS – 840 Points
GLuFS – 787 Points
The standings are very close and there are still lots of points to be gained from the Spex, and maybe something else?
SNYS and GLuFS need to step up their questing game if they want to stay in the competition however. Luckily, tomorrow is the last day to do QUESTS, send them in before 23.59!!This is the last public update from me, before we announce the winner of Q.U.A.T.R.O.W 2021 during the ceremony, see you then!
*Pointmaster flies away*