Apply
Application is currently: OPEN
IMPORTANT! We currently have no working nomination committee, meaning the election process will be a bit different from usual. We will be opening for free nominations on the RK meetings, meaning that you just need to show up and present yourself during the election of the position you're interested in. While this does remove the first half of the handy flowchart, we would appreciate if you still applied via the application form, so we can estimate how many will show up for each position. If you have further questions you can send them to luna@luna.lu.se.
Thank you and sorry for the inconvenience.
Welcome to the application page for positions within Lunds naturvetarkår (LUNA). A table of currently available positions can be found below. The application form is also found below.
Descriptions for all positions can be found on the Post Description page.
Confused about the application process? The handy flowchart on this page gives an outline for the entire process. If you have additional que stions regarding the application process, you can ask the Nomination Committee Chairperson on valb-ordf@luna.lu.se.
Important Dates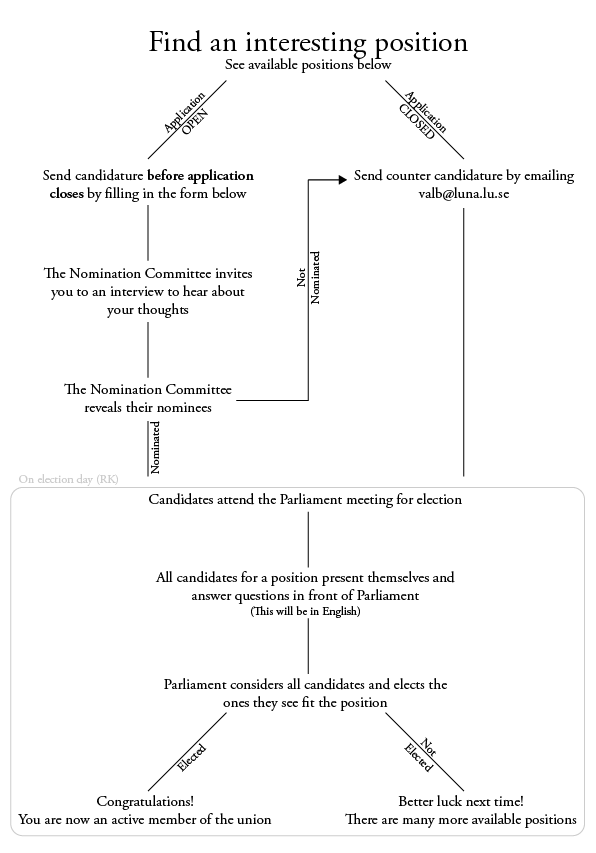 Available Positions
The number of available positions is denoted as ' #Ordinary position , #Alternate position '.
Union Central Positions
Union Committees
Student Council Positions
Faculty Student Representatives
External Positions
Application Form