A warm welcome to all of you new students at the Faculty of science. Congratulations for being accepted to Lund university.
This is LUNA, the science student union. We are here to help you with whatever you may need during your time here in Lund. As a student union we monitor your education, voice your opinions towards the university, and arrange social activities throughout the year.
Here on our webpage www.lundsnaturvetarkar.se you find lots of useful information. You can reach us on Facebook as "Lunds Naturvetarkår – LUNA" or e-mail luna@luna.lu.se. Follow us on Instagram @naturvetarkaren. Our office is located in the Astronomy Building.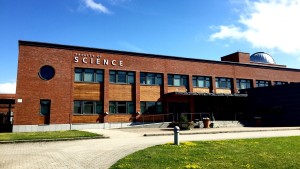 Remember to accept you offer to study on www.antagning.se no later than July 29th.
If you are looking for housing we recommend you register to AF Bostäder at www.afbostader.se straightaway for student accommodation hosted by the Academic society or at www.bopoolen.nu for second hand housing.
Another useful thing to obtain is a membership in Studentlund. This will allow you to become a member of the union and join a nation, more information on that is found at www.studentlund.se.
Of course we want our students to be introduced to the university in the best way possible, therefore we arrange a novisch period for you as first time student. This will be a time filled with fun activities, opportunities to make new friends, and to learn about your upcoming university studies. Be sure to like "Treasure Quest LUNA Novisch 2016" on Facebook and check the webpage under the "Novisch – new in Lund" tag for more information.
Do not hesitate to contact us or stop by for a cup of coffee.