Academia is not the only possible future for science students. Meet Caspar Håkansson and Johan K. Jensen, the two biology students behind Naturlaboratoriet. Naturlaboratoriet is a small company selling restored, historical and biology-themed posters. Their materials are climate-compensated and locally produced in Lund. You can read more about their work on their website.
The founders explain their vision as a way of showing the wonders of natural science for a wider audience.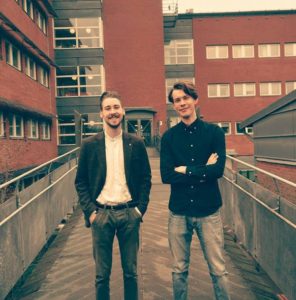 Naturlaboratoriet offers all union members a discount code lasting up until April 30th. Enter "LUNA" at checkout and get a 15 % discount on your purchase. Use the buttons below to explore Naturlaboratoriet online.
Naturlaboratoriet is a great example of entrepreneurship among science students. There are several ways to help encourage such through union work. The Corporate Relations Committee is an obvious route; either by taking part or simply come with suggestions. You can always reach the Head of Corporate Relations at naringsliv@luna.lu.se.
The Faculty of Science has realized the importance of better connections between students and the corporate world. With the establishment of Arbetsmarknadsrådet, the faculty is working strategically to improve the possibilities for their students.
Naturlaboratoriet has sponsored LUNA with a poster.