LUNA Novisch Period Quests
Welcome to the home page of the LUNA Novisch Period Quests! Here you find the Quest List, Active Turfs, Current Standings, Updates from the Pointmasters, and rules on how to compete in the LUNA Novisch Period. The competition is between the four teams: BUG, GLuFS, LEMUR, and SNYS.
The most important rule is do not break the law.
Send your submissions to pointmaster@luna.lu.se. For quests, write subject as "[team name], [experiment number]: [experiment description]"
The rest of the rules and information about submissions can be found in the Quest Rule doc.
Current Standings
The current (most recently updated) standings are displayed here, however sometimes the page will have trouble updating due to your cache, so if you think it hasn't updated try clearing your cache or opening the page in incognito mode.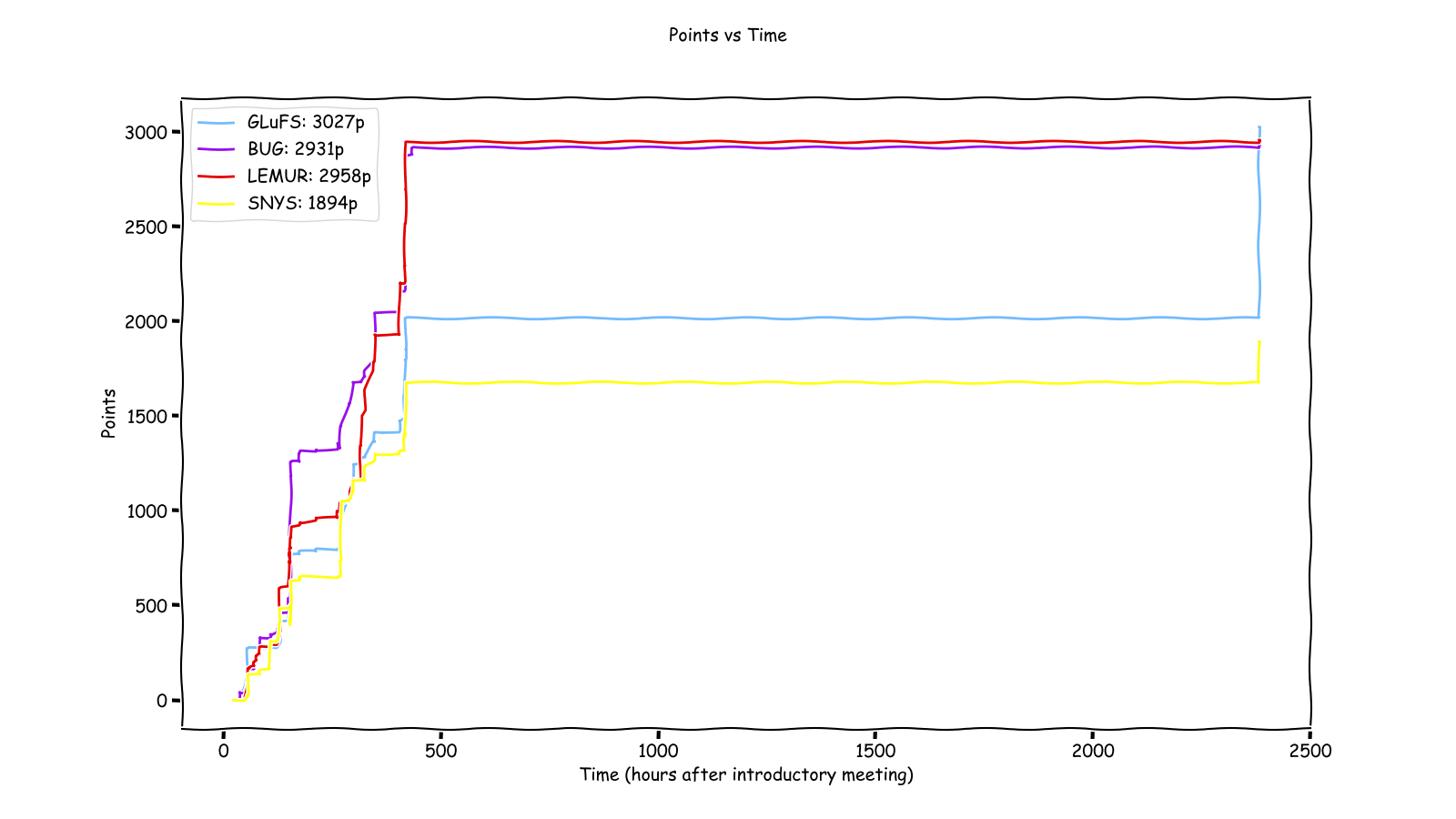 Mentor team: 19 Points
FUF: 24 Points
Pointmaster Updates!
24/8 – We hope you guys enjoyed the Soap Games today! The points awarded during the games were as follows: GLuFS 100p, LEMUR 75p, BUG 50p, and SNYS 25p. LEMUR was awarded an additional 50 points for finding Medis and saving FU Lukas! You can see the current standings in the legend of the plot above. We really enjoy looking through all your quests, so great work everyone! <3 See you tomorrow!
28/8 – Hello hello! We hope you had fun at yesterday's taskmasters, despite the mess with the tram! Congratulations to SNYS who got 100p, and LEMUR who found Medis! Today is the first day of school, and also the mentor co-op. You are allowed to get help from your mentors in your questing endeavours! You can tell them what to do, but they can't take initiative, or tell you what to do. Message/email us (Minoo or Lina) if you have any questions/concerns. Good luck and Happy questing!
2/9 – Heyo! Great job at CTH today everyone! Congratulations to GLuFS who both won the competition and found Medis! Today we reveal the Turfs (!!!) which can be found at the bottom of the page. They are worth a lot of points! 🙂 Tonight is the TDC and you'll get to party with killers, victims, detectives, and the press! There is also a new clue out… are you getting any closer to finding the murderer? perhaps its time to question FU yourselves..? Have fun, and Happy questing!

3/9 Hi! Hope you had a nice time during the LUNA Fair today. The winner in todays competition iiiis *drumroll* BUG (100 points) followed by LEMUR (75 points) and SNYS and GLuFS on a shared third place (50 points each). Great job everyone! Also we have updated the site with more turfs for you to find. Last day to quest is on wednesday, so GO GO GO!


Quest List
Active Turfs
These are the Turfs! To claim a turf, simply take a picture like to ones below (same location and angle) with minimum 4 team members + mascot + flag! The turfs are worth 15p each, and can only be claimed ONCE, by one team. Good luck!
Taken Turfs
Here we post the pictures of the claimed turfs! 🙂