Interested in studying abroad? At the Faculty of Science you are able to study parts of you education at another university, in another part of the world.
The deadline for applying is November 1st.
Information about exchange studies and the application can be found here and here. If interested in the University of California, take a look here.
If you have any questions, contact Kristina Miolin at 046-222 30 01 or kristina.miolin@science.lu.se.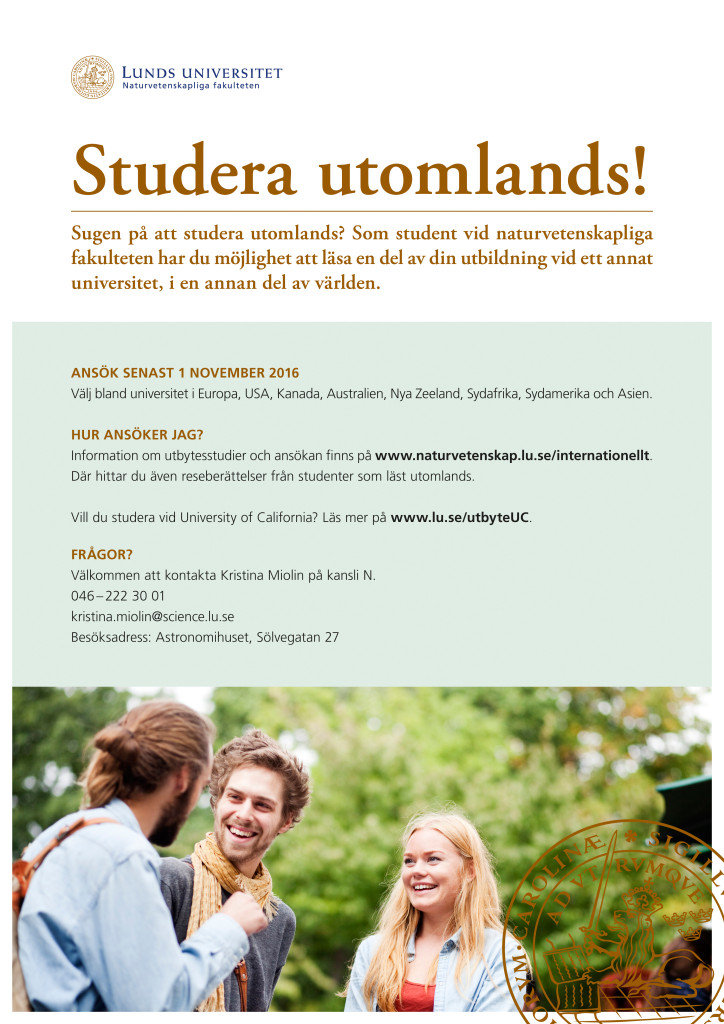 Events
August

2019

Mon
Tue
Wed
Thu
Fri
Sat
Sun

28

Office Hours

Introduction Day!

• •
Facebook
Hello everyone, hope you had a great summer! Something exciting is happening this autumn!

For the first time ever Framtidsmässan (eng: Future Fair) is coming to Lund and it is FREE TO ATTEND for everyone!
Sign up for a ticket here: www.offentligsektor.nu/event

Framtidsmässan is the largest career event for the public sector and more. Don't miss your chance to attend! ... See MoreSee Less
Will you be beginning your studies at Lund University during the fall semester of 2019? Then you might be in the process of looking for housing. We know this can be difficult, so we wanted to highlight some services for finding housing that might be useful!
Firstly there is AF Bostäder, which you probably already have heard of. They rent out corridor rooms and apartments first hand. You can visit their website here: www.afbostader.se/
There is also BoPoolen. They rent out apartments and rooms first- and second hand. You can visit their website here: bopoolen.nu/
📣📣📣
We especially want to highlight BoPoolen's Couch Surfing Campaign, which can be reached here: bopoolen.nu/en/hyr-ut-din-soffa-till-en-internationell-student/?languageaction=en
Through this campaign, you can find a place to stay for a brief period of time (1-2 weeks), which can be useful if you arrive in Lund before your housing contract begins. We also encourage anyone who has the opportunity to sign up as a temporary "landlord".
📣📣📣
If you're an international student, you can find housing through LU Accommodation, a service provided by the university. They rent out apartments and rooms first hand. They can be reached here: www.luaccommodation.lu.se/
Lastly, you can find housing through blocket. Like BoPoolen, here you can find apartments and rooms both first- and second hand. You can reach their website here: www.blocket.se/bostad/uthyres
Good luck to everyone looking for housing! 🏡👀 ... See MoreSee Less
Hello! Have you been accepted to an education at the Faculty of Science for the fall of 2019? Then you have come to the right place. This is the page for the Science Student Union (sv: Lunds naturvetarkår), LUNA. The Science Student Union works to ensure that you as a student have a great time in Lund and that your rights are being upheld.

All new students at the Faculty of Science are welcome to attend our introduction day on the 28th of August at 12:00 at Matteannexet (Sölvegatan 20), where you will receive fun and useful information and meet your fellow new students. The introduction day also marks the beginning of the novisch period, which is two and a half weeks of introduction activities for new students. You can read more about this on our website www.lundsnaturvetarkar.se/novisch/.
Welcome to Lund! ... See MoreSee Less
Introductionperiod for all new science students at the beginning of every semester.
Lunds naturvetarkår - LUNA ... See MoreSee Less
Don't forget to pick up your lab coat today before 14.00! ... See MoreSee Less